Here's a fact – electrical fires are the fifth most common cause of commercial building fires. In the last year alone, home electrical fires were responsible for an estimated 51,000 fires, nearly 500 deaths, over 1,400 injuries, and $1.3 billion in property damage.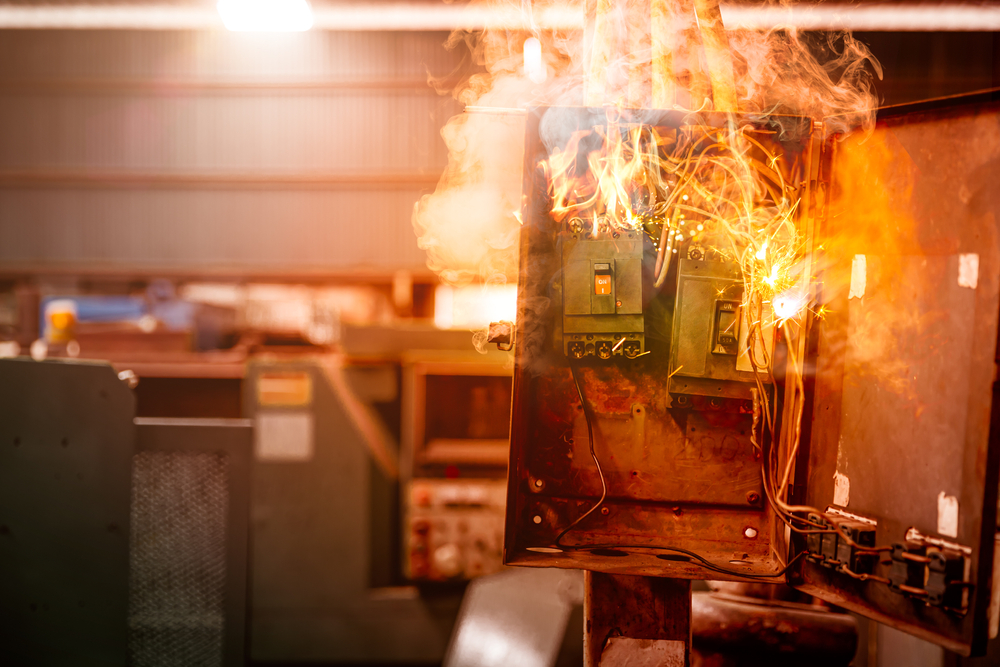 One of the most serious issues with electrical fires is that they rarely give the owner or occupant any advance warning that a potentially dangerous fire is imminent. Equipment, wiring, and other electrical appliances have a chance to fail and cause a sudden fire, despite being in perfect working order for years. An electrical fire may be prompted by a failure or malfunction within the electrical components of electrical equipment or machinery.
Primary Causes of Electrical Fires
The majority of electrical fires are caused by faulty electrical outlets or worn out, improperly grounded sockets. As outlets and switches age, the wiring behind them deteriorates, and wires that become loose over time may break and cause a fire.

Worn-out appliances are the cause of many electrical fires because they consume a lot of power, and units with frayed or damaged cords increase the risk of starting a fire. If a home is more than 20 to 30 years old, the pre-installed wiring capacity may not be sufficient to handle the increased number of electrical appliances in today's average home.

Examples include faster computers or PC towers, wide-screen televisions, smart AI appliances, 4-in-one air fryers, and air conditioners. This increased power load is proven to be too much for outdated home wiring, and may cause it to overheat and catch fire.

As most – if not all – electrical work and wiring are hidden behind walls, it can be difficult to spot old, potentially dangerous wiring. Here are some tips to spot any significant fire risk:
Frequently overloaded plug points or circuit breakers
Flickering lights or power trips
Appliances or electrical devices that are excessively hot
Shocks/sparks from electrical outlets or appliances
Unexplained, possibly mild burning smells
Frayed wiring or exposed cords
Common Locations of Electrical Fires
Like the name suggests, electrical fires can occur anywhere there is an electrical source. Some of the more common industrial settings include:
Most electrical panels have overload protection built in. However, if this protection fails, the overload can cause a fire.
Transformers pose a difficult fire incident because they contain mineral oil, which can be difficult to extinguish.
Cable trays or cable vaults
Cable trays and cable vaults, in addition to electrical cabinets and transformer rooms, pose a special hazard. Fires in these or other industrial electrical settings cannot be easily or safely extinguished using conventional methods such as water sprinkler systems.
Equipment with motors and drivers should not be made to run over their applicable number of running hours. It's recommended that they should be monitored, maintained, and replaced according to the manufacturer's schedule and instructions.
Avoid these electrical fire hazards by ensuring your building is up-to-date with the latest guidelines. In the event of an emergency, they should be equipped with the right means to prevent the spread of a fire. Work with the right fire safety equipment company to minimise the damage!
Prevent Electrical Fires with BlueTechM&E Consultancy
BluetecM&E Consultancy is able to offer FSSD submissions and manage fire safety planning projects that are compliant with laws and guidelines of the Department of Fire Safety in Singapore. Prevent electrical fires from occurring in your building project by collaborating with our expert M&E consultants to install the right fire alarm system.

Learn more about what we do at BlueTecM&E. Reach out to us via our contact page for project information and quotations. We guarantee a fuss-free process for all our clients.